Published:

12:43, 20 May 2019

Updated:

17:33, 13 Jun 2019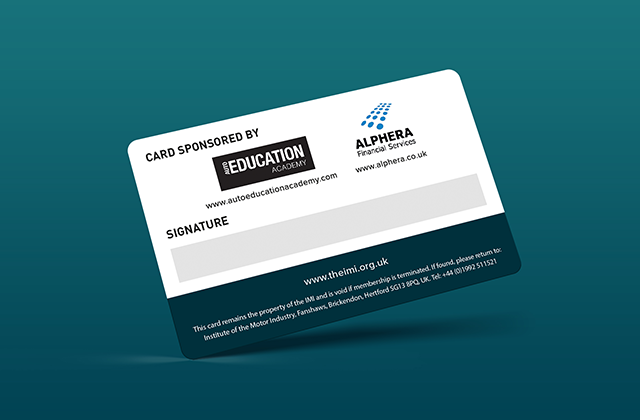 Industry body, the Institute of the Motor Industry (IMI), has launched the 2019/20 membership card for IMI members, with the support of Alphera Financial Services and Auto Education Academy.  IMI members can use the card to demonstrate their commitment to the IMI's ethical working practices and standards.
Alphera Financial Services' sponsorship of the new membership card, follows its partnership with the IMI to offer its new Finance and Insurance (F&I) accreditation scheme. The F&I accreditation enables motor retailers to better comply with the latest FCA regulations and build customer confidence in the advice they offer. Anyone who completes the F&I accreditation will go onto the IMI Professional Register, demonstrating their capabilities for customers, colleagues and the wider industry.
Also sponsoring the 2019/20 IMI membership card is Auto Education Academy which offers structured automotive training to help businesses train technicians at all levels. The Auto Education Academy courses cover all areas of mechanical, electrical, electronic, diagnostics and repair of vehicles.
Steve Nash, CEO of the IMI said: "We are delighted to have sponsorship from Alphera Financial Services and Auto Education Academy for this year's membership card, reflecting the IMI's focus on supporting motor industry professionals operate best practice. Through the launch of our membership card, our members now have an easy way to demonstrate their affiliation with the professional excellence of the IMI.
"There are a wide range of benefits available to motor industry professionals who join the IMI.  Our Legal Link helpline offers vital guidance on a wide range of issues, and the health & safety compliance companion keeps members up to date on industry regulations. Membership also includes a performance assistant to help with professional development, plus Member Association events held around the country to provide networking opportunities, lectures and demonstrations. And the IMI Magazine offers advice, guidance and analysis on the motor industry.
"Being a member of the IMI is a clear demonstration to consumers and the industry as a whole of an individual's commitment to the best training and working practices. And the membership card is a great way for motor industry professionals to display this commitment."
Media enquiries
For media enquiries please contact:
Wendy Harrison,
HSL | Managing Director
Email: wendy@harrisonsadler.com
Tel: +44 (0) 2089 779 132
Mob: +44 (0) 7850 372 469