Published:

13:00, 11 Nov 2013

Updated:

11:31, 13 Nov 2013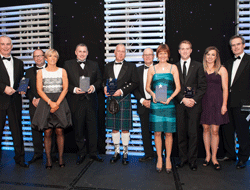 The Institute of the Motor Industry (IMI) attended the Scottish Motor Trade Association (SMTA) annual dinner in November to present five Scottish companies with "Alba Recognition Awards" for their contributions in helping the IMI with an important stream of work covering research into the value of various forms of training across the UK motor industry.
The awards, sponsored by IMI Awards Ltd, Giles Insurance Brokers and Manheim, were presented to Vauxhall Motors Ltd, John Clark Motor Group, Phoenix Car Company, Imperial Commercials and Mercedes Benz Glasgow. All the recipients provided vital feedback and information for Return on Investment (ROI) studies which aim to make relevant business cases for investment in skills across the automotive retail sector.
IMI CEO Steve Nash commented:
"The recipients of this year's Alba awards are all extremely deserving for the work they have done to advance the automotive sector as a whole. All the recipients have an exemplary record in ensuring their staff have all the skills they need to provide the best possible service to their clients. We are extremely hopeful that the valuable information they have provided will enable us to provide a compelling argument to employers that investment in skills will positively impact business performance.
"The aim of the IMI's Return on Investment Programme is to compile compelling case studies about automotive companies generating tangible benefits from their broad ranging investments in training and staff development, from apprenticeships, sales and technical skills right through to management & leadership. With the information the recipients of the Alba recognition awards have provided we are aiming to present a strong case to those who may question the commercial value of training and in doing so help to ensure the future success of the sector as a whole."
Findings of the IMI's ROI studies are set to be released during November and December and cover Automotive Management and Leadership, Apprenticeships and Accident Repair. Findings around training in Heavy Vehicle maintenance (specifically irtec licensing) are already available.  For more details, click on the ROI link located on the right hand side of this article.
Media enquiries
For media enquiries please contact:
Wendy Harrison,
HSL | Managing Director
Email: wendy@harrisonsadler.com
Tel: +44 (0) 2089 779 132
Mob: +44 (0) 7850 372 469