Published:

13:25, 19 Dec 2013

Updated:

14:09, 19 Dec 2013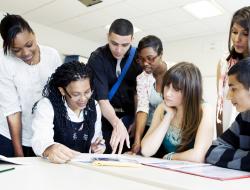 The Institute of the Motor Industry (IMI) is addressing the concerns of businesses that school leavers do not possess the literacy and ICT skills necessary to begin a career in the automotive sector.  To do so, the IMI has added a free suite of literacy and ICT teaching resources themed around the motor industry to its Headlight portfolio at www.autocity.org.uk.  The resources are sponsored by the Volkswagen Group Advanced Apprenticeship Programme and include lesson plans, PowerPoint presentations and worksheets, all of which are written with an Ofsted Outstanding approach in mind.
There are widespread concerns among businesses about young people's literacy and numeracy skills, with 81 percent of organisations questioned by the Federation of Small Businesses saying they were not confident that school leavers are ready for work.  The survey, which questioned almost 3,000 companies, also revealed worries about school leavers' self-management and communication skills, as well as their ability to work in teams.  Over two thirds said they rated school leavers' literacy skills as poor or very poor, while over 55 percent said the same about their numeracy skills.
Steve Nash, the IMI's CEO, comments: "The retail automotive industry suffers more than most from the problem of poor level applicants to its apprenticeship programmes. This is often caused by a limited awareness of the great careers it offers and the level of skill required, meaning that high quality candidates are rarely directed to our sector.  Our renowned Headlight programmes allow the IMI to directly address the skills gaps faced by all businesses looking for fresh talent by putting work skills back into the classroom, whilst raising the profile of the automotive sector to young people thinking about their career options via vehicle manufacturer-sponsored resources."
The IMI's new literacy and ICT teaching resources are available under the newly refreshed Headlight programme on the IMI's Autocity careers website and complete a full suite of resources which also include business and maths skills. The Headlight programme is part funded by the UK Commission for Employment and Skills (UKCES).   
Media enquiries
For media enquiries please contact:
Wendy Harrison,
HSL | Managing Director
Email: wendy@harrisonsadler.com
Tel: +44 (0) 2089 779 132
Mob: +44 (0) 7850 372 469