Published:

09:51, 20 Jul 2015

Updated:

09:55, 20 Jul 2015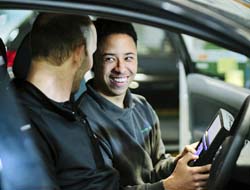 Find out more about the new Motor Vehicle Service and Maintenance Technician (Light Vehicle) Apprenticeship and assessment strategy (based on the new Apprenticeship 'Trailblazer' requirements), which was developed by The Automotive Retail Trailblazer group led by Jaguar Land Rover. The workshop is aimed at employers and training providers that wish to review the Apprenticeship Standard and Assessment Plan, and gain an understanding on how it will be implemented once the assessment strategy has been approved by The Department for Business, Innovation & Skills (BIS).
The workshop will be held on Tuesday 28 July 2015 at GTG Training in Wolverhampton and will be structured to update employers during the morning and training providers in the afternoon. Please register your interest to attend by emailing Kelly Riordan at kriordan@Jaguarlandrover.com, stating your preferred slot (AM or PM). Register your interest quickly as there will be limited places available.
We hope you take this opportunity to review and give valuable feedback on the Trailblazer standard and assessment for the automotive retail sector.
This new standard does not affect the current availability of the existing SASE compliant frameworks which are available and you will still be able to register learners against all existing frameworks for the foreseeable future.
Media enquiries
For media enquiries please contact:
Wendy Harrison,
HSL | Managing Director
Email: wendy@harrisonsadler.com
Tel: +44 (0) 2089 779 132
Mob: +44 (0) 7850 372 469