Published:

10:17, 30 May 2017

Updated:

10:23, 30 May 2017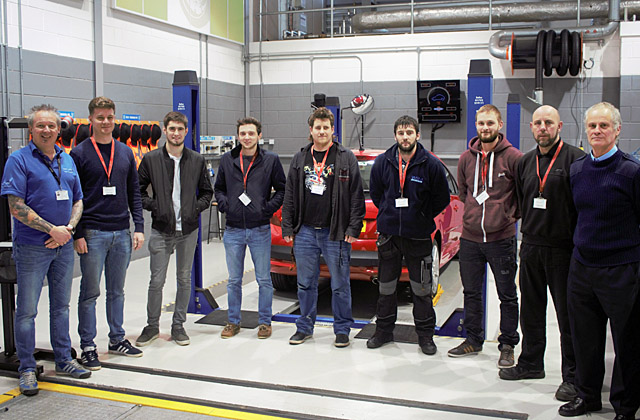 Above: Exeter College MOT trainers Darren Smyth on the left and Chris Fuge on the far right, with some of their successful candidates
Exeter College are currently celebrating a great twelve months providing MOT tester qualifications. Attracting candidates from a pool of 400 businesses locally and bringing in technicians from as far away as Kent, they have notched up an enviable record so far with a 100% pass rate.
"Of course we had a head start," admits Andy Wells, Head of the Engineering and Aerospace Faculty at Exeter College. "We were an MOT training centre for the DVSA before the recent changes were implemented.
"We were already well resourced before the new qualifications were introduced so we hit the ground running. Our training is competitively priced and accommodation in Devon is affordable too. It all adds up to a winning combination for us as a college and our customers," continued Andy.
They are also running on-site annual training and assessment for MOT testers. During the March rush for the deadline they were catering for 30 to 50 testers every evening.
Barry Williams, IMI Business Development Manger, will join the Exeter team onstage. "Exeter College has some great kit for the 800 or so engineering candidates coming through the faculty every year. They have eight ramps, the latest diagnostic devices, and a bank of 50 PCs for the IMI online learning and assessment. To top it all they have full capability to run ULEV training course, so they're surely set for a bright future serving the retail motor industry," he said.
Note: The IMI MOT seminar at Automechanika will give an insight on the latest MOT training requirements, the impact it may have on your business and help you to prepare your testers for the future.
Thursday 8 June 2017 from 9.30 to 11.30, Concourse Suite 1, NEC Birmingham. Find out more and register for free today.
Media enquiries
For media enquiries please contact:
Wendy Harrison,
HSL | Managing Director
Email: wendy@harrisonsadler.com
Tel: +44 (0) 2089 779 132
Mob: +44 (0) 7850 372 469