Published:

12:04, 6 Nov 2014

Updated:

10:23, 10 Nov 2014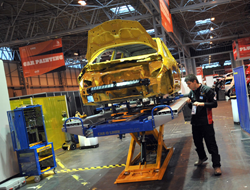 IMI SkillAuto competitors will head to the Birmingham NEC this week on the 14th and 15th November for the final of the competition. Eighteen heat winners will compete for gold at the UK Skills Show in their chosen fields of Autorefinishing, Autotech or Autobody.  Around 100,000 people are expected to visit the Skills Show at the Birmingham NEC, which provides a platform for the nation's best young talent to compete, as well as giving visitors the chance to investigate vocational career opportunities.
The SkillAuto competition area will feature vehicles from VW, Kia, Jaguar Land Rover and Toyota, as well as a Formula 1 car loaned to the competition by Honda. For the first time, SkillAuto will also feature a heavy vehicle showcase starring a Volvo truck and Iveco virtual displays. This is in preparation for the introduction of a heavy vehicle competition next year. High profile companies such as Wurth, Morelli, GTG and Car-o-Liner will be supplying the equipment for the apprentices, ensuring the competition will be a cutting edge display of careers in the sector.
IMI CEO Steve Nash commented,
"The IMI SkillAuto competition final at the Skills Show provides a key opportunity to shine a spotlight on automotive apprenticeships and attract the next generation to our sector. Thanks to our sponsors and the hard work and support of training providers around the country, the thousands of young people visiting the show will see the very best our sector has to offer. The competitors are shining examples of what you can achieve in the automotive sector with hard work, dedication and passion. I am sure everyone will join me in wishing them the best of luck at the competition."
The IMI was one of just three competition organising partners to be nominated by WorldSkills UK for their 'Partner of the Year' award in recognition of their efforts in delivering the 2013 competitions, so a high profile is expected at this year's competition. The IMI will also be promoting automotive careers at the event, building on the success of the #MotorCareers campaign earlier this year. 
2014 SkillAuto finalists
AutoTech
• Ryan Redshaw, Coleg Cambria and John Roberts
• Amy Rush, Coleg Cambria and N&P Autos
• Matthew Winter, Jaguar Land Rover Academy and  H A Fox
• Glen Cassidy, South West College and Astec Motors
• Ben Brown, North Warwickshire and Hinckley College
• Callum Byrne, Peterborough Regional College and Chapel Motor Repair LTD
AutoRefinishing
• Blake Robey, Chesterfield College and Sharp Customs
• Stuart Thomas, Cardiff and Vale College and Motec Autos
• Daryl Head, Thatcham Automotive Academy, Nationwide Crash Repair Centre Swindon
• Aaron Kernohan, Riverpark Training and Nigel Whann
• Scott Smith, Exeter College and Kynaston Autobodies Ltd
• Rory Clague, City of Bristol College and Race and Restoration
AutoBody
• Lewis Lloyd, Coleg Gwent and BP Rolls Group
• Iwan Williams, Rhyl Coleg Llandrillo and Steve Mellor Accident Repair Centre
• Matthew North, Cardiff and Vale College and Fordthorne Abbey Garages
• Harrison Jankovic, Cardiff and Vale College and Custom Classics
• Andrew Spiers, Riverpark Training and Wrights Accident Repair Centre
• Stuart Davidson, Newcastle College and Thompson Accident Repair Centre
Media enquiries
For media enquiries please contact:
Wendy Harrison,
HSL | Managing Director
Email: wendy@harrisonsadler.com
Tel: +44 (0) 2089 779 132
Mob: +44 (0) 7850 372 469