Published:

10:21, 10 Jul 2014

Updated:

10:24, 10 Jul 2014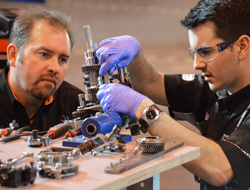 ~~Ed Milliband has announced plans for new practical courses known as 'Technical Degrees', which will offer young people who do not wish to pursue traditional academia the chance to continue in apprenticeships and vocational qualifications at degree level. Co-designed and sponsored by employers, these new courses would offer young people the opportunity to earn while they continue to learn.
Long a proponent of the benefits of apprenticeships over traditional academic routes, the IMI welcomes these plans as a step in the right direction – but warns that any future Government must look at vocational training at all levels and ensure a raft of changes are made to ensure these are an attractive option to young people.
Steve Nash of the IMI comments, "We are cautiously optimistic about Labour's announcement, and are happy that light is being thrown on the issue of apprenticeships, which has seemed be a bit of a political football. Whichever Government we have, we must not believe that a 'quick-fix' policy is going to address the disparity in popularity between apprenticeships and higher education – in both employers and young people alike. There needs to be root and branch change, with Government backing a variety of skills training to address the needs of business and show young people how valuable apprenticeships can be to them personally."
Labour's announcement comes on the back of statistics from the department for business that revealed the number of apprenticeship starts by under-25s has fallen by over 11,000 under the current Government, with Labour claiming that it is now more than three times more difficult to win a Rolls Royce apprenticeship than a place at Oxford, and two and a half times more likely that an applicant will get into Cambridge than onto BAE's apprenticeship scheme.
Nash concludes, "The announcement brings bold statements from both the Government and Labour on apprenticeships, but as we've said before, these do not go nearly far enough. Whilst on the surface these plans from Labour sound extremely positive, we haven't seen the detail or how these would translate into practice. Our own studies have shown that by the end of their third year an apprentice can generate a return of investment of between 150%-300% based on a £50 hourly charge, so the evidence is there for the benefits of apprenticeships, we just need concrete moves made to support them.
"The automotive retail sector is one of the key areas of industry that embrace vocational training and so could benefit from these plans. The IMI is pleased with the message that Labour is looking into ways we can develop and enhance the vocational model, to offer students who do not want to go down the degree route a real alternative – however there is still a long way to go in realising the full potential in apprenticeships."
Steve Nash is available to provide expert comment on the value of apprenticeships for the UK economy.  He can provide valuable insight into how companies can make the most of apprenticeship schemes and dispel some of the myths surrounding them – particularly in relation to cost and productivity to businesses.
Media enquiries
For media enquiries please contact:
Wendy Harrison,
HSL | Managing Director
Email: wendy@harrisonsadler.com
Tel: +44 (0) 2089 779 132
Mob: +44 (0) 7850 372 469