Published:

10:38, 15 Jan 2019

Updated:

10:39, 15 Jan 2019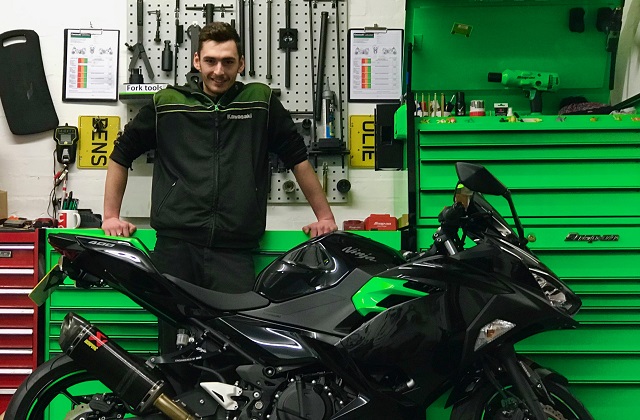 The nationally recognised IMI Accreditation scheme enables technicians to validate their current competencies, by means of skill and knowledge-based assessments. The accreditation is considered an industry standard and instils confidence in customers, knowing the technicians working on their machines have proved their knowledge, technical abilities and have signed up to a code of conduct.
Ollie realised the benefits in becoming an IMI Accredited Technician and grasped the opportunity to attempt the assessment, saying, "I completed the assessment because I knew it would help me in the future and the more qualifications you have the easier it will be to find a job. It's one of the things that a lot of people would probably like to do and I had the opportunity to do the assessment with Kawasaki Motors UK, so I went for it."
There are various levels of IMI Accreditation for a wide variety of roles and for motorcycle technicians these include: Service Maintenance; Diagnostic; and Master.  Successful individuals are included on the IMI Professional Register, a database of accredited technicians that can be accessed by the public and prospective employers. 
"For the test, basically you go in to find bikes that have faults introduced into them and you are given the tools required to find out what's wrong with them. I really enjoyed getting hands on with the bikes. Originally I was nervous about what to do but once I got comfortable, it was like any other day of working on the bikes and finding out faults," said Ollie, who spends most of his spare time either working on his personal project motorcycles, modifying his prized Ninja 400 or riding his mountain bike.
Ollie completed the assessment when he was just nineteen years old, saying, "It makes me quite proud of myself to be honest. When I first started being a mechanic at sixteen years old, I didn't expect to be the youngest person to do the assessment at Kawasaki, so it makes me feel good that I've accomplished this at my age."
Richard Crowfoot, Ollie's proud father and owner of both Kawasaki Leicester and Drayton Croft Motorcycles has provided the inspiration that has encouraged Ollie to follow in his footsteps.
"My dad was always a mechanic when he was younger and he owns two Kawasaki dealerships now so I was always around engines and motorcycles as a kid. I always enjoyed seeing how things work or taking things apart and fixing them, so I knew at a young age that I wanted to be some kind of mechanic."
Ollie has now completed his apprenticeship and is joyfully working full time at Drayton Croft Kawasaki as a motorcycle technician.
"I'm finding working very enjoyable. I work alongside a great mechanic who always has projects I can tinker around with and learn from."
Having reaped the benefits of IMI accreditation and successfully completing his apprenticeship, Ollie believes that anybody who is doing an apprenticeship or thinking about a career in the motor industry should take the leap, saying, "It's definitely worth going down the route of being an apprentice as you learn so much.  Doing the accreditation proves what I have learnt. Just go for it!"
Media enquiries
For media enquiries please contact:
Wendy Harrison,
HSL | Managing Director
Email: wendy@harrisonsadler.com
Tel: +44 (0) 2089 779 132
Mob: +44 (0) 7850 372 469